Welding, Sprayer Parts & Grain Services in Bagley, Iowa
Williams Welding, Inc. is proud to offer their Bagley, IA customers an 80'x100' heated shop, allowing them to pull their equipment inside and have it worked on, regardless of the weather. This shop allows us to work on welding projects all year round, also. We have a large amount of iron, enabling us to complete any project, regardless of size or complexity. Williams Welding, Inc. guarantees our welding services to last.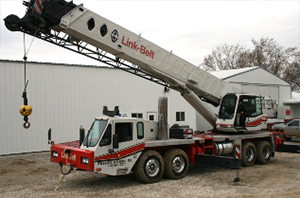 We offer welding services and this wide variety of other services in Bagley:
Crane Services
Sprayer Parts
Grain Bins
Steel Buildings
Dryers
Grain Handling
You can rely on the team of experts at Williams Welding, Inc. to get the job done, quickly and efficiently.

Sprayer Parts for Bagley, Iowa
One of the important services we provide is offering you a large inventory of sprayer parts. Our massive amount of parts allows you to be sure you have the right piece for your sprayer needs. We keep track of what is in demand, constantly adding to our stock. This is just a small sampling of the parts we currently have on-hand:
Manifold fittings
Garden hose fittings
Manual and electric valves
Tips, caps, sprayer nozzle bodies
Clear, Reinforced, EPDM, Enforcer, Bumblebee hose in every size
If your Bagley farm is in need of 15 or 25-gallon spray tanks, be sure to call Williams Welding. We can also help you with all of your Banjo sprayer parts, in addition to these quality sprayer part brands:
Raven
Ace
Ace Roto-Mold
Teejet
FloJet
Hypro
Grain Bins Bagley, IA
Our experienced team of professionals is here to help you with all of your grain bin needs. We specialize in new grain bin construction, grain bin, and grain elevator repair and grain dryer installation.
If you need a new grain bin for your farm operation, Williams Welding can take care of everything from beginning to end. We can level the site, pour the base, and construct the new bin to your needs and specifications. You can choose from the following Sukup Grain Bins:
Medium- and Heavy-Duty Hopper Bins
Stiffened and Non-Stiffened Farm Grain Bins
Commercial Grain Bins
Million Bushel Bins
We can also help you with grain bin repairs and will help you fix them quickly. We don't want your damaged bin to let in vermin, insects, and moisture which can ruin your grain. If you need to replace any broken or damaged parts on your bin, we have the parts and know-how. Whether you need fans, heaters, flashing, floor supports, bolts and nuts, spreaders or more, give Williams Welding, Inc. a call.
Make us your first choice when it comes to not only your welding or sprayer parts needs, but also grain handling and crane services in Bagley, Iowa.
A family-owned and operated company, we're located in Hamlin, Iowa and are proud of our outstanding reputation for customer service and quality products. We want to give you the personalized attention and expert results you deserve. Contact Williams Welding, Inc. today for more information!