SUKUP GRAIN BINS IOWA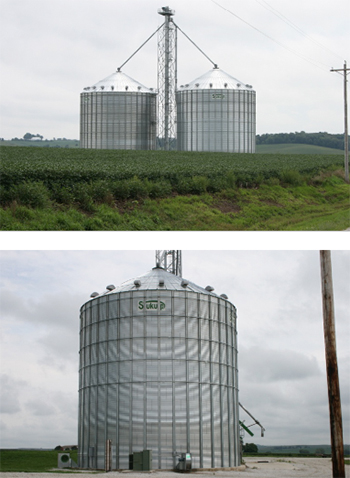 Williams Welding Inc. in Southwest Iowa offers many options when it comes to Sukup grain bins. Our crew is experienced and ready assist with your grain operation, offering everything from grain bin repair, to grain dryers, to new grain bin construction. We have grain bins for sale and grain bin repair options that are perfect for your farm. If you want a new Sukup grain bin built, or are trying to find someone to complete repairs for your farm grain bins, contact our team right away. We serve the Audubon County, IA area with premium grain bin or grain elevator repair and construction services.
New Grain Bin Construction
Is it time for more storage to improve your operation and allow you to market your grain when you're ready? We can level the site – pour the pad and build the bin to your specifications. No matter what kind of grain bin you are looking to install, we have you covered. We offer the following Sukup Grain Bins:
Non-Stiffened Farm Grain Bins
Stiffened Farm Grain Bins
Commercial Grain Bins
Medium-Duty Hopper Bins
Heavy-Duty Hopper Bins
Million Bushel Bins
These are the different types of grain bins that we can provide for your farming operation in Audubon County, IA and other areas of Southwest Iowa. We offer several different options at affordable grain bin prices - call today for more information.
Grain Bin Repairs in Iowa
Grain bins are important in keeping your yield safe. If there are problems with your grain bins, you should have them repaired as soon as possible. The longer you wait, the greater chance there is that unfavorable weather conditions, pests or moisture will ruin crops stored in your grain bins. If the concrete needs to be replaced, we can pour a new pad and move the bin to ensure many more productive years of grain handling and storage. These grain bin repair services help ensure that your bins remain sturdy for years to come.
We are also able to replace broken or malfunctioning parts on your grain bins. We carry many parts on hand: fans, heaters, transitions, spreaders, floor supports and flashing, bolts and nuts and more. Call now to see how our grain bin services can benefit you. Our Service Area Includes the following cities in Audubon County, Iowa: