CRANE SERVICE
Do you need to move something heavy on your Southwest Iowa farm, put up a new grain bin, or transport a large load? We can take care of it with our professional crane services. Williams Welding is able to take care of all of your crane needs easily and safely. We can get the job done safely and efficiently with our Link-Belt 60-ton crane. Equipped with 166' of stick, we have the ability to do a variety of different heavy-duty lifting jobs – we might even move a freedom rock in your county!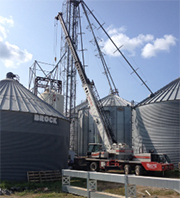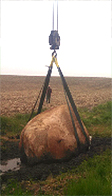 There are a lot of different jobs that our experienced crane operators can handle. Some of these crane service jobs that you may be in need of on your Southwest Iowa farm might include:
Lifting or Moving Heavy Objects or Loads
Moving Large Loads in Tight Areas
Constructing Equipment or Structures
Repairing Heavy-Duty Equipment
Repairing Storm/Weather Damage
These are all different situations that we can take care of with our professional crane services in Iowa. Contact our team as soon as possible if you are in need of any sort of crane service on your farm in the Hamlin, Iowa area.
Crane Services in Iowa
Choosing Williams Welding to handle any crane service needs that you may have ensures that the job will be done correctly and efficiently. We focus on keeping you and your entire farm safe. That is why we offer crane services to take care of heavy lifting and transportation. The more you rely on us for these services, the less chance there is that you will have to risk your own safety trying to take care of them. Crane services help us construct grain bins and other kinds of equipment for your farm, and can also help us repair equipment or structures that are in need of help.
Because we know how important it is for crane operators to be professional and officially licensed, our crew has up-to-date operational and rigging licenses. We take pride in getting the job done right the first time. Contact us now to learn more about our crane services in Southwest Iowa. Our service area in Audubon County, Iowa includes the following cities: