Welding, Grain Services and Sprayer Parts in Elk Horn, IA
Williams Welding, Inc. may be our name, but welding isn't the only thing we do. We also construct steel buildings, grain bins and grain handling equipment. We also have a sprayer parts shop that is fully stocked located in Hamlin, IA. We are your best resource for welding and grain services in the Elk Horn, IA area.
We've grown and expanded over the years and we now have an 80x100' steel building that is heated, allowing us to work on your projects regardless of how the weather is outside. We help you with any project, no matter the size or subject. You can count on our quality welding services for all of your needs.
In addition to our welding services, we are proud to offer these services:
Grain bin construction
Grain handling equipment
Grain dryer construction and repair
Steel building construction
Crane services
Sprayer parts
Grain Bins in Elk Horn, IA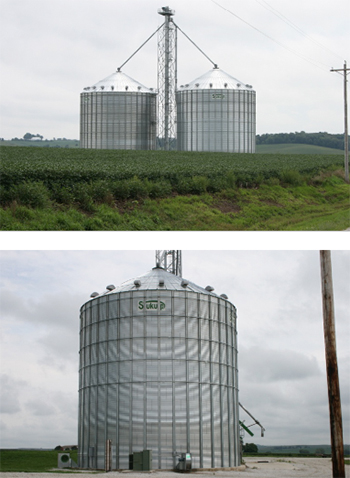 We are happy to offer grain bin services in Elk Horn to our friends in the farming industry. A sampling of some of our grain services include grain bin construction and grain bin, dryer and elevator repair. We can construct your grain bin from beginning to end, starting with leveling the site, then pouring the base and constructing the bin.
We offer the following line of Sukup bins:
Non-Stiffened and Stiffened Farm Grain Bins
Medium and Heavy Duty Hopper Bins
Commercial Grain Bins
Million Bushel Bins
Williams Welding, Inc. can also assist you with any grain bin repairs you may need. Not only can we replace missing or broken parts, we can also repair malfunctioning parts. We have a wide array of supplies on-hand, such as fans, heaters and flashing.
Sprayer Parts in Elk Horn, IA
Our extensive inventory of sprayer parts is one of the biggest in Southwest Iowa and it's only getting bigger! Here are some of the items we stock:
Tips, caps, nozzle bodies
Manual and electrical valves
Quick couplers
Sprayer wands Inductor, 15 & 25 gallon spray tanks
Manifold fittings
We stock only the best brands, such as FloJet, Raven, Hypro and Banjo.
We are proud to be a family owned and operated business and look forward to serving all your welding and grain bin needs in Elk Horn, IA.