INDUCTOR TANKS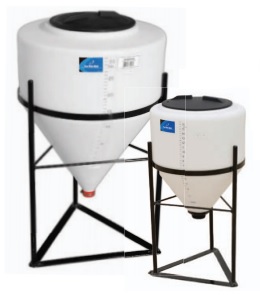 For efficient storage and drainage, Williams Welding offers inductor tanks. All of our tanks are made from medium-density polyethylene material with UV inhibitors to help store liquids, chemical mixing or draining requirements. Our inductor tanks are made for all indoor or outdoor applications. Each tank requires a stand to support the conical bottom. Inductor tanks can be used for various industries and applications such as water treatments, paper mills, winemaking, agricultural grains, and more.
Features for inductor tanks include:
Brand: Ace Roto-Mold
Sizes in Stock: 15, 30 & 60 gallon and tank heavy-duty tank stands
Standard 2" plumbing, 12" lids, optional rinse system and 2" manifold system available
Heavy wall construction
Cone bottom
Benefits of Inductor Tanks for Des Moines, IA
There are many advantages offered by inductor tanks to create a safe storage area. Some of these benefits include:
Indoor and outdoor applications
Consists of conical bottoms to efficiently drain liquid out
A steel support stand that supports the conical bottoms
Tanks walls are translucent for level viewing
Equipped with gallon indicators
Made from polyethylene with UV inhibitors
Designed to hold liquids up to 1.7 specific gravity
Made with Ace bulkhead fittings
Contain internal or external threads
Available in different outlet sizes
Seamless construction
FDA approved polyethylene resins
Highly versatile
Prevents sloshing, cracking or leaking
William Welding provides quality inductor tanks for customers in Iowa. You can use them in both commercial and residential applications. Come by and see us. We serve the Atlantic, Carroll, and Guthrie Center, IA area. We also have a great inventory of transfer pumps and tractor pumps. Call us if you have any questions about our products.