MANUAL AND ELECTRIC BALL VALVES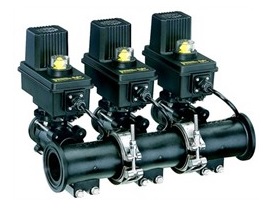 Williams Welding, Inc. carries Banjo electrical valves. Banjo standard and 3-way valves are used in a wide variety of agricultural applications. With pressure ranging from 100-150 psi, they are made to withstand heavy use. The Banjo electric valves are made with glass injected polypropylene or stainless steel. The stainless steel models are available to order, the glass models are on hand.
If you are in Iowa then the place to go for you electric valve needs. The standard models ranges in size from 3/4" - 4". If you happen to need an electric valves for universal manifold connection, we offer a solution for that as well.
Manifold Valves Offered at Williams Welding, Inc.
Banjo Manifold valves include Bolted, Stubby, 3-Way, and Pressure Relief. Manifold valves are made of the highest quality materials. We also offer universal connection solutions. Use the manifold style valve along with a flange clamp to provide a quick, easy, and quality fit. Valves range in size from 1"-3".
Manifold valves: 3-way, 5-way, bolted, pressure relief, stubby, and single union.
Electric valves: assembly, on/off, and regulating.
Williams Welding, Inc. also carries TeeJet brand 344B electric regulating valves, electric shut-off ball valves in the 344 and 346 series, and manifold valves in the 430 series and 2-way ball valves.
We also offer a great inventory of transfer and tractor pumps for both commercial and home applications. Stop by today or call to learn more about our products.