Welding, Grain Services, and Sprayer Parts in Panora, Iowa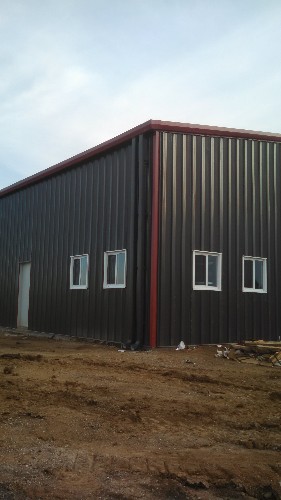 Williams Welding, Inc. not only offers welding and welding repairs, but we also construct steel buildings, grain bins, and grain handling equipment. In addition, we own a sprayer parts shop. We provide only the best sprayer services, welding services, and grain bin construction in Panora, IA.
Due to our excellent services and great reputation, our company has been constantly growing. We now work out of a 80x100' steel building which allows us to complete welding projects throughout the year, no matter what the weather! Our large inventory of iron allows us to take on projects of any size and complexity. You can count on our welding services here at Williams Welding.
Not only do we offer professional welding services, but we have added the following services:
Grain Bins Southwest Iowa
Our company is proud to offer a variety of grain bin services to farmers in Panora, IA and surrounding areas. We provide grain bin construction and repair, as well as grain dryers and grain elevator repair. Williams Welding can take care of your grain bin construction from start to finish. Once we level the site, we will pour in the base and construct your new grain bin according to your specifications.
Here are some of the Sukup Grain Bin options that we offer:
Stiffened Farm Grain Bins
Non-Stiffened Farm Grain Bins
Commercial Grain Bins
Million Bushel Bins
Medium-Duty Hopper Bins
Heavy-Duty Hopper Bins
If your grain bin needs repairing, it is important to get that taken care of as soon as you can. Damaged grain bins can allow pests, insects, and moisture to enter; all of which can ruin your crops. At Williams Welding, we can replace any broken or malfunctioning parts of your grain bin. We provide heaters, fans, floor supports, nuts, bolts, flashing, transitions, spreaders, and more!
Sprayer Parts in Panora, IA
One of the most important services that we offer is our sprayer part service. Our large inventory allows us to provide farmers with all the parts that they need to repair their sprayer. As demands rise, our supply increases as well. Here are some of the sprayer parts that we currently offer:
Tips, caps and nozzle bodies
Manifold fittings
Garden hose fittings
Manual and electric valves
Quick couplers
Sprayer wands
Inductor, 15 & 25 gallon spray tanks
Clear - Reinforced - EPDM - Enforcer - bumblebee hose in every size
For all of our sprayer parts, we only use the best brands on the market. These include:
Banjo
Teejet
Hypro
Ace
FloJet
Raven
Ace Roto-Mold
Williams Welding, Inc. is a family owned and operated business located in Hamlin, Iowa. Let us give you the personalized service that you deserve. We stand behind our products and our work. Call us today to learn more about the services we offer in Panora, IA. We look forward to working with you!