CAM LEVER COUPLINGS IN IOWA
Williams Welding, Inc. offers a full line of Banjo fluid handling products, including cam lever couplings. Cam level couplings are durable and reliable connections for hose, pipes, tanks, fluid transfer lines and pumps. They do not require tools and thread. Because cam lever couplings are crack and high impact resistant, they can be used for agricultural and industrial applications.
These couplings allow you to easily connect or disconnect tanks, pumps, and fluid transfer lines without taking too long or creating issues. The cam lever couplings from Banjo Liquid Handling Products that we provide come in both reinforced glass injected polypropylene, FDA polypropylene, and 316 stainless steel. This gives you the benefit of choosing the product that is just right for your specific needs. For anyone in need of quality cam lever couplings Iowa, contact Williams Welding right away.
Features and Benefits of Cam Lever Couplings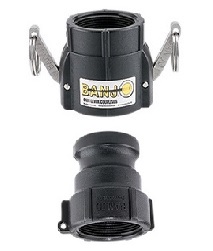 We strive to give you only the best products and services in the southwest Iowa area. Some of the benefits that our cam lever couplings Iowa services provide for you include:
Smooth operating
Resistant to stress cracking
Reliable connection
Thread and tools not required
Available in every size except 4"
Economical
Superior, high-quality performance
Interchangeable
Available in polypropylene (in stock) or stainless steel (ordered)
Easy opening of cam levers
Insures a uniform and accurate fit
Williams Welding, Inc. offers years of experience, providing superior service and products. Come see our large selection of cam lever couplings. Also, we offer transfer pumps, tractor pumps, sprayer wands, and much more. We are located in southwest Iowa, and serve the surrounding area.
If you are looking for superior quality products that were made in the U.S.A., you have come to the right place. We can supply you with fluid handling products that will help you keep your operation safe and efficient. Call us today to learn more.