Welding, Grain Services, and Sprayer Parts in Hamlin, Iowa
When it comes to welding and other services like grain bin construction and repair, quality is essential. That's why Williams Welding, Inc. offers top notch welding services to residents of Hamlin, IA. Welding is our speciality, but we also offer a large variety of other services. We offer crane services, construct steel buildings, and offer a large inventory of sprayer parts. We are your number one grain handling Iowa professional as well as your crane service Iowa expert. We strive for complete customer satisfaction in every job that we do.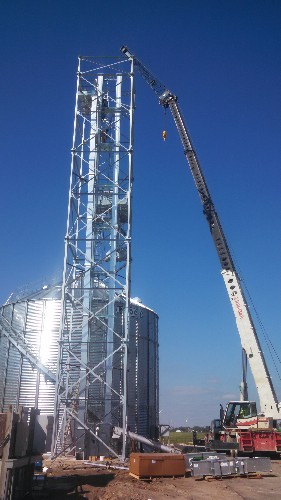 Williams Welding has humble beginnings. We started out with a single employee and a travelling welding truck that did various jobs for farming operations in Southwest Iowa. Now, our business has expanded enough for us to have several employees working out of a 80x100' heated workshop. Our workshop allows us to do welding projects at any time of year, no matter what the weather! Our welding services are long lasting and reliable, giving you the peace of mind that you need to focus on running your business.
Sprayer Parts in Hamlin, IA
Williams Welding offers several different sprayer parts, including:
Our sprayer parts come from top brand names like Banjo and Teejet. Our shop is located right in Hamlin, IA, and is very accessible from major cities like Carroll, IA. If you live in the area and are looking for professional welding services, grain bin repair, crane services, sprayer parts, or grain handling equipment, come to Williams Welding.
To learn more about how we can improve your farming operation, call Williams Welding today. We are proud to serve in Hamlin, IA and surrounding Southwest Iowa areas.
Grain Bins Southwest Iowa
Here at Williams Welding, Inc. we offer several professional services for your farming operation's grain bins. We provide grain elevator repair, grain dryers, new grain bin construction, and all types of grain bin repair.
Have you been looking into building a grain bin for your farm? If so, call Williams Welding. From leveling the site, pouring the base, to building the grain bin, we can handle it from start to finish. Our Sukup Grain Bins include:
Commercial Grain Bins
Stiffened Farm Grain Bins
Non-Stiffened Farm Grain Bins
Medium-Duty Hopper Bins
Heavy-Duty Hopper Bins
Million Bushel Bins
Is your grain bin in need of repair? Let Williams Welding fix it for you. A damaged grain bin can allow a passage for pests and moisture to enter, destroying your crops. Williams Welding can replace any broken parts on your grain bin. We have parts such as: flashing, floor supports, transitions, spreaders, fans, heaters, nuts, bolts, and more. Contact us today to learn more about the services we provide in Hamlin, IA. We look forward to working with you!